About
Josanna Dixon of Bonehead Brewing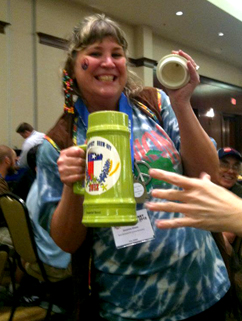 "I am a homebrew and cider maker by choice. I enjoy the  company of other brewers. You can take an entire day and leave your  other "life" behind. You don't worry about anything but what you're  doing right now. Homebrewing gives my husband and I a chance to enjoy  each other for an entire day. Not to say my life is bad—it could not be any better—but it is a little escape from the daily grind of working  and taking care of a household. I have enjoyed the hobby for over 17  years. I have had successes and I have had failures, but it's only  beer. Nobody will die if it doesn't turn out not the way you wanted. Sure it is  disappointing, but there is nothing like hearing your name called and  walking up to the podium of a competition to come away with some bling  and some very valuable feedback."  
Name: Josanna Dixon of "Bonehead Brewing" Hometown: Burlington, Kentucky Homebrew Club: Northern Kentucky Homebrewers Guild I've been a homebrewer since: 1996
When did you start brewing/What got you brewing? Bottom line, I started brewing beer to meet men. I had some friends, Rick and Jeanie Smith who started homebrewing as  a hobby, and I tagged along to see what it was all about. I would never date anyone who did not drink. There is a lot of entertainment in a glass of beer, just imagine what is in six beers. There's nothing like enjoying good company with great conversation over an exceptional beer. I happy to report it worked. I met my husband of over 10 years who is a fantastic homebrewer, Dave Dixon of "Dave's Dreaded."
When did you know this was no ordinary hobby, it was an obsession? From my first batch. I enjoy cooking and tweaking recipes, and beer took that obsession to another level. Why not use the same creativity in beer and cider?
When did you join the AHA? I believe it was 2001. I was lucky to meet a few of the AHA members and staff and felt it was a good organization to belong to. They bring a lot to the table with information and what's happening in the homebrewing community.  What is your "white whale" beer (the beer you'd hunt to the ends of the earth for, and possibly die trying to obtain)? Wow, this is a toss up. It's between Fullers ESB and Old Speckled Hen in the can. I would walk over hot coals for either one of them.  I was hooked on Fullers when Dave and I visited Fullers Brewery in Chiswick UK. The deal was sealed when the head brewer was giving us a tour and hand drew a pint of ESB—I knew I was hooked for life. As for the Old Speckled Hen, it is as close to heaven as I can get here in the US. From the cascading beer, to that first sip—it's a sight that brings a smile to my face every time.  What are your favorite commercial craft breweries? While I love to make beer, I don't drink much beer. But I do enjoy Abita, Oliver Cider, Fox Barrel Apricot Perry and Pyramid Apricot Wheat. I like to tickle the taste buds with a few select beers, wine and cider.
Do you have a homebrewing disaster you'd like to share? My first disaster was my first batch brewing by myself. I scalded my foot with the hot water return from my emersion wort chiller. I spent the rest of the brew day with my foot in a bucket of ice water finishing the beer. The final results won me my very first medal at the 1999 CMI Oktobersbest competition—a first place in the Belgian strong ale category.
Do you have a special homebrew related project that you'd like to share? While a member of the Cowtown Cappers Homebrew club in Fort Worth, Texas, I was lucky enough to be tasked with revamping the 1999 Bluebonnet Pub Crawl. At the time, the pub crawl was more of a whipping than fun for the bus monitors. My job was to change that. I streamlined it and made it fun for everyone involved. The processes are still used today.
What is your favorite style(s) to brew? I enjoy brewing the English special bitter and German wheat beer which I love to add fruit  to half of the batch. I usually use apricot or cherry, it just depends on what I'm feeling that day.
What style(s) will you never brew? Never say never, but I have never brewed a lambic. I thought I would never brew a complex beer, but two years ago I brewed a Russian imperial stout that turned out fantastic. I have won numerous medals in competition and enjoyed sharing it with others. I kinda liked the feed back of "Wow you brewed this?"
What was the first beer you ever brewed? How did it turn out? My first brew was from a kit I requested as a Christmas present. I sent my mother to the Winemaker shop in Fort Worth with a shopping list. She got me everything I needed for a southern brown. While it was not fantastic, it was a great start. That started my obsession with making the best beer I could.
Have you ever had a homebrew mistake that turned out great? My greatest mistake was my second beer that I named the "Real Strong Hoppy Shit." It was the Belgian strong ale that won me my first medal.
What is your favorite recipe based off of a commercial style? Without a doubt, my all-time favorite style to brew is the Bass Ale – Best Bitter. It is my go to beer. I have been blessed to win a Bluebonnet Stein and many awards with this beer.
Do you have a favorite homebrew trick or gadget that you've found to make your beer better/brewing easier, etc? Time. Take your time and enjoy the experience. Do not rush it.  Describe your brew system. I brew on my husband's (Dave Dixon "Dave's Dreaded") brew system. It is a two-tier system which allows me to make up to 10 gallons at a time. His "BIG D" system has gone through a couple of revisions over the years. He is currently in revision three, and looking at revision four, so I have to keep up with the changes he makes, sometimes without approval. I do have a very special handmade "Bonehead Brewing" paddle made for me by my buddy Stacy Samford of the "Rocking S Brewery."
How frequently do you brew (times per month or year)? I try to brew or make cider at least once a month when I can get time on the brew system between Dave and my twin brother Joe Pozak of "Jackass Brewing."
What is your dream beer and food pairing? Who needs a paring? You have food and you have beer. Why complicate things?
Do you have a favorite or house yeast? What qualities do you like about that yeast? I don't really have a favorite. Again each one has its place. Yeast can play an important role in your final product.
Do you belong to a homebrew club? Do you have a good homebrew club story you'd like to share? I started with the Cowtown Cappers of Fort Worth, Texas. That club merged with the NetHoppers to make the Cap and Hare Homebrew Club.
Since moving to Kentucky, we are a members of the both Cincinnati Malt Infusers and the Northern Kentucky Homebrewers Guild. Currently I spend most of my time with the crew of Northern Kentucky Homebrewers Guild. The Guild is a great group of people who just enjoy brewing. I honestly believe belonging to a homebrew club has made me the brewer I am.
With the sharing of ideas and processes you learn from the trial and error of others. You have a chance to get together and enjoy a common love of brewing. You will have members old and young, experienced and newbies. What do you have to lose? You also get the bonus of making some great friends along the way. I could not imagine not having my brewing friends in my life.  Is there any advice you would like to give to new homebrewers? I have to say the most important advice of all time is to pay attention to sterilization. Without good sterilization techniques your best beer will not turn out as you wanted. Second, join a homebrew club. You learn more at one brew out than you can ever learn on your own. Ladies do not be afraid of that brew rig. Brew a nice batch of beer and enjoy yourself.  As Dave would say "Brew Hard!"